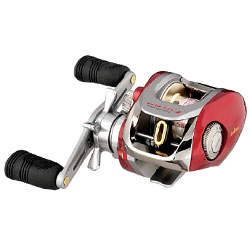 Team Daiwa Fuego Review
This low-profile, high-capacity freshwater reel has a solid magnesium frame and handle-side side-plate, so you can palm it comfortably all day, firing long-range casts until the cows come home. Its perforated aluminum U-Spool holds more line than virtually any other compact reel and is engineered with Daiwa Free-Floating technology to send even featherweight lures out where they need to go. Cut-proof titanium nitrided line guide; 6 stainless steel ball bearings plus Infinite Anti-Reverse roller bearing; Autocast clutch; Magforce-Z magnetic anti-backlash control; 7-disc drag system with fiber composite washers; 6+1 bearings. Gear ratio: 6.3:1. Weight: 7.4 oz. Line capacity: 12 lb./140 yards.
Team Daiwa Fuego Reviews
Actual Customer Feedback:
"i've had this reel for a couple of years now. i've used it for just about every situation and technique that i know how to. the magforce z braking system is nice. the situation it works best in in my experiences is pitchin and flippin."
Portion of actual user review from basspro.com
"I bought two of these reels. The reels are meticulously made. The fit and finish is exceptional. The reel is very smooth on casting and retrieve. The brake is very effective."
Portion of actual user review from basspro.com
"Bought a pair of these this spring and have since become my favorite reels. Very light, very precise, and very smooth."
Portion of actual user review from basspro.com
"i bought this reel last summer and have taken really good care of it but now when i cast it makes a loud noise and i have lots of backlashes since it started making this noise. but when it worked it was a great reel, but i have since then started purchasing shimano reels, dont have to have near as much cleaning."
Portion of actual user review from basspro.com
Our research on the Team Daiwa Fuego Suggests:
According to the general online consensus, where our research is based on unbiased customer comments and user feedback, this is an excellent reel and excellent value for the money. There were only a few negative comments about this reel.