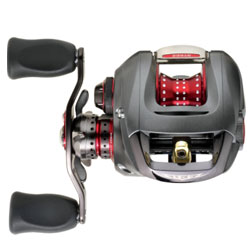 Team Daiwa Steez Review
Lightweight meets light-speed in Team Daiwa's Steez High-Speed Baitcast Reels. Boasting a blazing fast 7.1:1 gear ratio and an ultra-light yet durable magnesium body design, the Steez High-Speed Reels offer bass fisherman the ultimate combination of lightweight performance and line-burning speed! Steez High-Speed Reels feature a free-floating, A7075 aluminum spool that starts up fast and spins longer. This innovative spool design works in conjunction with Daiwa's exclusive Magforce-V automatic anti-backlash system to allow for long, trouble-free casts.
Team Daiwa Steez Reviews
Actual Customer Feedback:
"I have a total of 5 Steez reels one of these and 4 of the slower speed models.. I have this one rigged on a 6.9MH fast tip Carrot stix and the rig is just silly light the other 4 I have rigged on Steez rods and they are awesome as well! my 14 Zillions are all rigged on Carrot stixs as well! and these reels are awesome by all means the Zillion IMHO is about the same casting and feel of this reel other then weighing more (I do own 5 Steez for a reason tho) they are by far the best reel on the market when you are looking for the lightest smoothest best casting (Also this reel has the Type R spool that used to come ONLY on the over seas "Tuned" Reels like the Pixie type R) and that does make a big diff it adds a easy 20 feet on casting when you want it over lets Say the Zillion or SOL..."
Portion of actual user review from basspro.com
Our research on the Team Daiwa Steez Suggests:
According to the general online consensus, where our research is based on unbiased customer comments and user feedback, this is a good reel and good value for the money. There were some negative comments about this reel, but not enough to give it an overall negative rating.