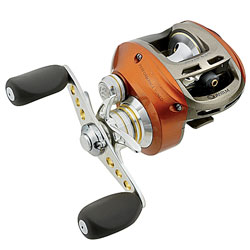 Quantum Catalyst PT Series Review
The Quantum Catalyst PT Series is no longer available. To find a comparable reel, please use the menu to the left.
Quantum Catalyst PT Series Reviews
Actual Customer Feedback:
"I have the Burner which uses a deep-V spool. Maybe I didn't put enough line on mine, but it seemed that during a long cast, the line that was on the edges of the spool would unwind somewhat and uncoil off the edges of the reel and sort of flop there in the center of the reel"
Portion of actual user review from basspro.com
Our research on the Quantum Catalyst PT Series Suggests:
According to the general online consensus, where our research is based on unbiased customer comments and user feedback, this is an excellent reel and excellent value for the money. There were only a few negative comments about this reel.