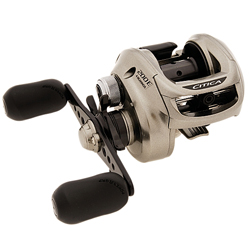 Shimano Citica E Review
A great general-duty reel, now built leaner and meaner than ever. Its compact footprint means the Citica is well-adapted to a wide range of bassin techniques, and the three stainless steel ball bearings are shielded to ensure smooth retrieves in all conditions. Ergonomically designed for comfortable palming. Features an aluminum frame with A6063 aluminum Lo Mass spool; Super Free pinion gear support system; Variable Brake System (VBS); Super Stopper II with Assist Stopper; Dartainium drag. 3 ball bearings, plus 1 roller bearing.
Shimano Citica E Reviews
Actual Customer Feedback:
"I bought one and have not bought a different reel since. It is well worth the money. I have three of these reels and they all perform great. If you don't want to put down the money for a Curado or other higher priced reels, get this one. Just an outstanding product!"
Portion of actual user review from basspro.com
"Exceptional reel. I have the DPV 200 version of this reel, and it's everything I'd expect from a reel costing 4X as much. Smooth as silk when casting, and tough as nails for durability. I'll more than likely be buying another in the near future."
Portion of actual user review from basspro.com
"This reel is excellent. It is super smooth for so few bearings in fact its the smoothest reel I have. It has great casting and good drag. I am really impressed with this reel and highly recommend it."
Portion of actual user review from basspro.com
"I own this and i paired it with my $34 bps graphite series 6'6" mh fast action and its the things poor fishermen dream of. with some nice 14 lbs mono. this combo would still coast less than $200. so u could still get some new lures. and have a kick as time on the water."
Portion of actual user review from basspro.com
Our research on the Shimano Citica E Baitcasting Reels Suggests:
According to the general online consensus, where our research is based on unbiased customer comments and user feedback, this is an outstanding reel and outstanding value for the money. There were few, if any, negative reports on this reel.