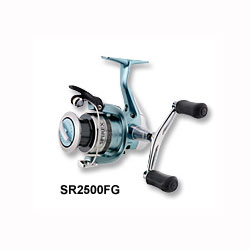 Shimano Spirex FG Front Drag Review
Rock-solid reliability meets advanced technology, now that the acclaimed Propulsion™ Line Management System has become standard even on the modestly-priced Spirex. One of Shimano's best-selling S Concept reels, it's the hands-down favorite for walleye and smallmouth anglers who need a trouble-free reel with a dependable drag. Now smoother and longer-casting than ever! Features a graphite frame, sideplate and rotor; cold-forged aluminum spool; Varispeed Oscillation; Fluidrive II, Quick Fire II one-hand casting system; Dyna-Balance; and a ported handle shank. Now with 5 shielded stainless steel ball bearings for smooth performance all around.
Shimano Spirex FG Front Drag Reviews
Actual Customer Feedback:
"I have the old 2000 model paired with an ugly stick that has lasted me through the years with no problems to date. All i do is cleen it once a year and put it to use."
Portion of actual user review from basspro.com
"I recently purchased the Spirex 1000fg to replace an old quantum that I had. I put it on an All Star classic series 6' UL rod and took it on a trout fishing trip to the White river in the Ozarks of Arkansas."
Portion of actual user review from basspro.com
"this reel is very good and has a very stiff handle that makes it so were u can feel every fish"
Portion of actual user review from basspro.com
"honestly, i think this is one of the best products i have ever purchased. the drag is incredibly smooth, you can cast a mile with it, and the cranking is smooth and powerfull. i was a little skeptical about the dual handle, in fact i was going to order a different one from shimano, but i kept the handle and it has really paid off. the dual handles balance the reel a lot . overall it's a great reel for the price."
Portion of actual user review from basspro.com
Our research on the Shimano Spirex FG Front Drag Spinning Reels Suggests:
According to the general online consensus, where our research is based on unbiased customer comments and user feedback, this is an outstanding reel and outstanding value for the money. There were few, if any, negative reports on this reel.