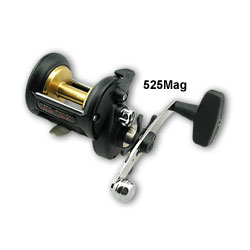 Penn GS Performance Review
Exclusive GS cut-gears provide incredible cranking power. Precision-machined stainless pinion gear; manganese-bronze main gear; corrosion-resistant construction; high-speed gear ratio with precision casting performance; Penn Versa-Drag; 1-piece open-top construction; lightweight graphite frame and sideplates; 4 aircraft-grade, sealed stainless ball bearings.
This reel is no longer available. Please click the link below to view a similar model.
Penn GS Performance Reviews
Actual Customer Feedback:
"When Penn first started making this reel I bought one and started my fishing as a caster, this reel can handle it as so could the first GS series... I would recomend this reel as one of Penns best and most sold reels for its durability and lasting power."
Portion of actual user review from basspro.com
"Been a long time on spinning reels. This year went conventional and picked up the 525mag on the advice of several people. I was slinging this thing greater distances in the surf right off the beat."
Portion of actual user review from basspro.com
Our research on the See Penn GS Performance Suggests:
According to the general online consensus, where our research is based on unbiased customer comments and user feedback, this is an excellent reel and excellent value for the money. There were only a few negative comments about this reel.