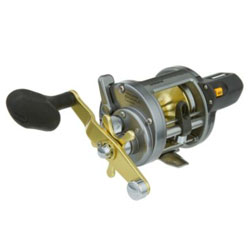 Shimano Tekota Review
The Shimano Tekota Levelwind Reels are solid, technically advanced, palmable levelwind reels designed to keep you trolling comfortably for years. Built on a rugged 1-piece die-cast aluminum frame with aluminum and graphite side-plates for maximum strength and minimum weight, the Tekota Levelwind Reels featurea unique crossbar-forward design that provides direct access to the spool, a non-disengaging levelwind system with underbrace for better line management, oversized clicker, and a non-slip Septon ergonomic power handle.
Shimano Tekota Reviews
Actual Customer Feedback:
"I've used my model 600 with 25lb. test for over two years for fresh and saltwater fishing and I'm very impressed with this reel. I use it along with my vintage Ambassadeur 7000C3 but I have grown to favor the 600 due to its drag smoothness, castability, and reliability (just like my 7000C3)."
Portion of actual user review from basspro.com
"I have a Shimano Tekota 500 and 600 both non-linecounter models. All I can say is wow! I love these reels! They are incredibly tough. I use them for catfish of all sizes. I have the 600 paired with a 7' M Ugly Stik Tiger Lite and it is a perfect match. "
Portion of actual user review from basspro.com
"I started making the switch to Shimano reels 2 years ago and the TEK500 was one of 1st 3 models I bought. I'm very happy with this reel."
Portion of actual user review from basspro.com
Our research on the Shimano Tekota Levelwind Reels Suggests:
According to the general online consensus, where our research is based on unbiased customer comments and user feedback, this is an excellent reel and excellent value for the money. There were only a few negative comments about this reel.