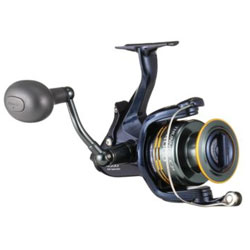 Shimano Thunnus CI4 Review
Super lightweight CI4 frame and rotor (aluminum on 12000 model) makes the Thunnus 7–10 ounces lighter than previous models! Baitrunner technology lets you feed line with the bail closed. Other features: Paladin Gears, Propulsion Line Management System, SR one-piece bail wire, Power Roller III, Direct Drive Mechanism, oversized Septon Grips, waterproof drag with Dartainium II cross carbon washers, and six shielded A-RB ball bearings plus Super Stopper II. For mono, fluorocarbon, or braid.
Shimano Baitrunner D Offshore Reviews
Actual Customer Feedback:
"Purchased the 8000 Ci4. Very good reel, excellent fishability. Just returned from Mexico, I used the reel for surf fishing with no luck; however it cast very well. I will likely purchase the 12,000 for surf fishing because after fishing from boat with this reel I believe a large fish might spool ya. The bait running function worked flawlessly caught at number of Serria Mackerel and couple of Cabria using live bait from the boat. Both the main drag and bait running drags worked very well in my opinion. My only concern is line twisting. Had to cut off about 20 yards after 3 days of fishing."
Portion of actual user review from basspro.com
Our research on the Shimano Thunnus CI4 Saltwater Spinning Reels Suggests:
According to the general online consensus, where our research is based on unbiased customer comments and user feedback, this is a good reel and good value for the money. There were some negative comments about this reel, but not enough to give it an overall negative rating.