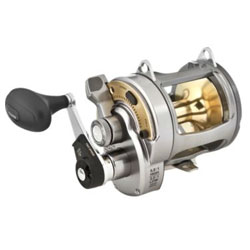 Shimano Tyrnos 2-Speed Review
Through the years, Shimano has produced some of the very best big game reels, and you can add the Tyrnos 2-Speed Reel to the list of reels that won't fail you. These big game trolling reels are built with a die-cast aluminum frame for enhanced strength and durability. While the graphite side plates reduce the Tyrnos Reel's overall weight, the combination of metals keeps moving parts aligned for increased efficiency and longevity.
Shimano Tyrnos 2-Speed Reviews
Actual Customer Feedback:
"I bought the 12 two speed. Its very good for trolling and yo-yo or jigging. But too heavy even with model 12; very heavy to cast; free spool not the best; You can't fish whole day with this reel. Weight alone will make you tired; Probably need some muscle for me; try casting with this before you buy; if its right for you excellent; Has a very good drag ( I accidentally hit a rock while yo-yo end up using the reel as an anchor for a 28ft panga in San Quintin, Baja California) and gear ratio is good for wahoooo; This reel is durable but not an all around reel."
Portion of actual user review from basspro.com
Our research on the Shimano Tyrnos 2-Speed Baitcasting Reels Suggests:
According to the general online consensus, where our research is based on unbiased customer comments and user feedback, this is a good reel and good value for the money. There were some negative comments about this reel, but not enough to give it an overall negative rating.