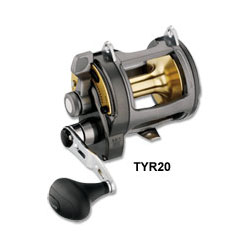 Shimano Tyrnos Review
Strength, durability and control are the hallmarks of Shimano's diecast aluminum-framed Tyrnos Reel. Its 4 A-RB stainless steel bearings offer 10 times the corrosion resistance of standard systems, and the graphite side-plates are braced with aluminum for extra strength without added weight. Reduced Profile top crossbar; oversized gears; alternating twin-pawl anti-reverse; bait clicker; ratchet drag.
Shimano Tyrnos Reviews
Actual Customer Feedback:
"I would recommend this to everyone that is fishing on the reef. I have caught Dolphin, Sailfish, Kings, Blackfin Tunas and wahoo with this reel. It is very durable and reliable as well and with the 5:1 gear ratio it is awesome to use on the Kite. This is a great choice."
Portion of actual user review from basspro.com
"This is a good reel. The bad thing is that it does not hold enough line. We hooked a 500+ pound jewfish and were almost spooled but then the line broke. Other than that, it is good torque for bottom fish."
Portion of actual user review from basspro.com
Our research on the See Shimano Tyrnos Suggests:
According to the general online consensus, where our research is based on unbiased customer comments and user feedback, this is an excellent reel and excellent value for the money. There were only a few negative comments about this reel.