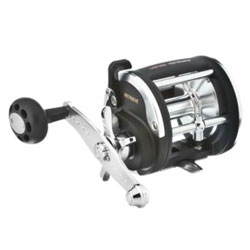 Offshore Angler Gold Cup GCL-30 Levelwind Reel Review
If you're serious about catching fish, you'll like the rugged reliability of our 30‑class levelwind. It's built on a sturdy 1-piece graphite frame, with a lightweight machined-aluminum spool, forged aluminum handle and die-cast alloy hardware. Inside are four double-shielded stainless steel ball bearings for long-term smooth, salt-defying performance. Other features include multi-stop anti-reverse, bait clicker, and stainless steel levelwind. Weight: 24.8 oz. Max drag: 22 lbs. Line capacity: 30 lbs./380 yards. Gear ratio: 4.4:1.
Offshore Angler Gold Cup GCL-30 Levelwind Reviews
Actual Customer Feedback:
"This reel is perfect for the person who doesn't want to sink a bunch of money into a reel, or just doesn't have that kind of money to spend on a reel. For people like me, who do big saltwater fishing a couple times a summer, because i don't live in a ocean state, it is perfrct for you too. I didn't feel the need to go more expincive than this. "
Portion of actual user review from basspro.com
Our research on the See Offshore Angler Gold Cup GCL-30 Levelwind Reel Suggests:
According to the general online consensus, where our research is based on unbiased customer comments and user feedback, this is an outstanding reel and outstanding value for the money. There were few, if any, negative reports on this reel.