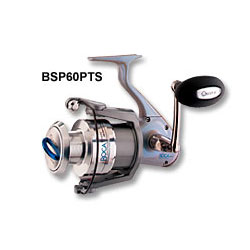 Quantum Boca PT Review
Corrosive sea water and big, super-aggressive fish spell trouble for ordinary tackle. That's why Quantum engineers intentionally overbuilt this rugged line of light saltwater reels, with an exclusive Saltgard 6-layer protective finish, custom polymer/stainless bearings, heat-defeating ceramic drags and ultra-smooth PT gears bathed in Hot Sauce lubricant. The goal? Zero chance for failure. Ever.
Quantum Boca PT Reviews
Actual Customer Feedback:
"this is what i like to call my snook buddy because of its smooth action and it reels smoothly has a nice line capacity and it is easy to clean"
Portion of actual user review from basspro.com
"This reel was very impressive and great overall. I was questioning the weight but once on a rod and out on the kayak it was nothing to me. It handled reds and trout like a champ. I threw freeline shrimp to lures to heavy bottom rig and it did the job. all around great buy, so treat yourself men or women"
Portion of actual user review from basspro.com
Our research on the See Quantum Boca PT Saltwater Suggests:
According to the general online consensus, where our research is based on unbiased customer comments and user feedback, this is an excellent reel and excellent value for the money. There were only a few negative comments about this reel.