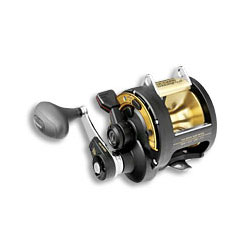 Shimano TLD 2-Speed A Model Review
Hard-nosed Triton Lever Drag technology and a versatile 2-speed clutch put you in control no matter which species you'll be slugging it out with. Expect years of durable performance. Sturdy graphite frame and side-plates, aluminum spool, 4 corrosion-resistant A-RB stainless steel ball bearings, rod clamp, barrel handle grip for leverage and comfort.
Shimano TLD 2-Speed A Model Reviews
Actual Customer Feedback:
"I have two TLD 50s and a TLD 20 and have been using them for the past three years without a hitch. The drag mechanisms are smooth and responsive and the graphite body is so much easier to handle than comparable steel models. A great performing reel. Highly recommended."
Portion of actual user review from basspro.com
"i have a nice time and great feeling of biggame fishing with old model tld 2 speed.this one is great.even cheeper. normaly i hate shimano and i love daiwa but this...look just this my frien catch the tuna in italy close to rome over 230lb with tld 20!!!! try it you will enjoy it"
Portion of actual user review from basspro.com
Our research on the See Shimano Charter Special TR-2000LD Suggests:
According to the general online consensus, where our research is based on unbiased customer comments and user feedback, this is an outstanding reel and outstanding value for the money. There were few, if any, negative reports on this reel.