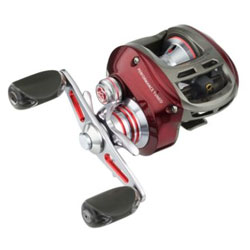 Quantum Kevin VanDam PT Review
100% Performance Tuned to meet one angler's specifications…KVD himself. Ready to fish at a consistently high level, with advanced lightweight construction and smooth, powerful performance all around. Features include a one-piece aluminum frame with quick-release sidecover, tough multi-coated finish, MaxCast skeletal spool, ti-coated line guide, polymer-stainless hybrid PT bearings, externally adjustable centrifugal braking, and advanced ceramic drag; lube port.
Quantum Kevin VanDam PT Reviews
Actual Customer Feedback:
"This reel is so light and very smooth. I will not but any other reel but this one."
Portion of actual user review from basspro.com
"I love this reel, it's easy to set-up as are all Quantum reels and the quality is excellent!! I also like that it was available in a lower gear ratio for cranking which is what I was looking for!!"
Portion of actual user review from basspro.com
"While I haven't had any problems with the reel so far, I haven't had it that long either. It seems like a good reel, but I will say that the thumbar is positioned a little lower than I'm used to."
Portion of actual user review from basspro.com
Our research on the Quantum Kevin VanDam PT Baitcast Reels Suggests:
According to the general online consensus, where our research is based on unbiased customer comments and user feedback, this is an excellent reel and excellent value for the money. There were only a few negative comments about this reel.