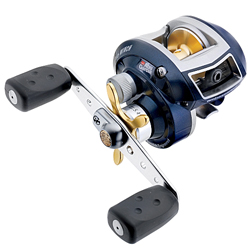 Abu Garcia REVO Winch Review
You can flip or pitch baits into heavy-cover with your high-speed reel, but can you get fish out? The Abu Garcia REVO Winch Baitcast Reel is built for pulling 8-pound largemouth out of a glob of milfoil. Engineered with a powerful 5.4:1 gear ratio, the REVO Winch is perfect baitcast reel for slower presentations with larger crankbaits, or for flipping and pitching plastics and jigs in heavy-cover. Power, durability and dependability are what the REVO Winch is all about. Its Duragear oversized main gear delivers serious winching power, while the REVO Winch's hitch-free Carbon Matrix Drag is ultra-smooth. The REVO Winch Baitcaster's power is housed in the lightweight X-Craftic alloy frame and side plate for maximum durability and corrosion-resistance. 10 stainless steel HPCR ball bearings + one roller bearing provide additional protection from corrosion.
Abu Garcia REVO Winch Reviews
Actual Customer Feedback:
"This reel has by far exceeded my expectations. I was out fishing earlier today, and I had on a 3/8 ounce crankbait and I was consistently casting about 60 yards. On top of that, this reel is so smooth. I will never buy any more "cheap" baitcasters. REVOs are the best low profile baitcaster. Period."
Portion of actual user review from basspro.com
"i think garcia came out with the best reel ever so far i own 3revo's the revo s,revo stx,and revo wnch ,going to buy another wnch this week i thought the first one was smooth till the wnch came out it's tough on the big reds and trout. i highly recommend."
Portion of actual user review from basspro.com
"ABSOLUTELY PERFECT! Even 10lb + bass buried in a forest of weeds are no match for this baby!"
Portion of actual user review from basspro.com
"This Revo is the bomb for throwing deep diving cranks a long way. Abu did it right with the deep, high capacity spool. It will launch a Norman DD22 a great distance. In addition, the reel is exceptionally well made. I highly recommend it."
Portion of actual user review from basspro.com
Our research on the Abu Garcia REVO Winch Suggests:
According to the general online consensus, where our research is based on unbiased customer comments and user feedback, this is an outstanding reel and outstanding value for the money. There were few, if any, negative reports on this reel.