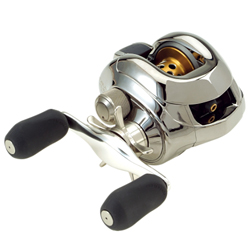 Shimano Calais 100A Review
Finesse anglers will enjoy the solid feel and fluid handling of the compact low-profile baitcaster, courtesy of 10 premium stainless steel Anti-Rust Bearings, flex-free aluminum frame and side-plates, ultralight A7075 aluminum Lo-Mass Spool and high Efficiency Gearing VBS cast control uses balanced centrifugal brakes (spare blocks and weights included) for prime accuracy in all conditions. Smooth Dartanium drag; Super Free pinion gear friction elimination; tapered titanium levelwind insert for extra distance; Super Stopper anti-reverse with Assist Stopper backup; cold-forged handle with ergonomic Septon paddle grips.
Shimano Calais 100A Reviews
Actual Customer Feedback:
"Yep I'm a lefty. Over the past 4 years i have slowly been buying the Calais reels to replace my others. They are very costly but think they are worth it. Now have 6 of these. "
Portion of actual user review from basspro.com
"Smooth, solid, superb, and slick looking as well they should for what they cost. I have Calcutta TE-GT's, Daiwa Steez reels and the Calais is best overall reel I've used. They are comfortable and an absolute pleasure to use."
Portion of actual user review from basspro.com
""I agree with all of the other reviews it is the best reel I have ever had in my hands. It's low profile and the way the real fit in your hands is amazing. They are very very smooth and cast great!"
Portion of actual user review from basspro.com
"I got a 200a and joined it with a johnny morris elite series trigger rod 7'0 fast action and it is the best out there. you can cast a mile far without even trying you should buy it"
Portion of actual user review from basspro.com
Our research on the Shimano Calais 100A Baitcasting Reels Suggests:
According to the general online consensus, where our research is based on unbiased customer comments and user feedback, this is an outstanding reel and outstanding value for the money. There were few, if any, negative reports on this reel.